- Thank you for your support of not blocking ads -
Complete event targets to get Points. Strive to be the Strongest Frenzy Commander!
To celebrate the Nation's development, the Nation is uniting with other Nations to hold a new round of selection events through the Battle Frenzy event. The event is split into several phases. Commanders who join all events and completes the event's phase targets can get corresponding rewards. In the end, the winner of the entire event will be selected and get rich rewards!
Event Rules:
During the event, the all-new "Battle Frenzy" Phase will be unlocked. You will fight Commanders from other Nations for the supreme honor of "Strongest Commander";
The event lasts for a total of 7 days and is split into multiple Phases. Every phase lasts for at least 1 day. During every event, Phases will randomly unlock according to the different content and order;
During the "Battle Frenzy" Phase, Troops can't be killed in battle, and the Wounded will automatically enter the Event Hospital. None of the battles during this Phase will be count toward the Commander kill Ranking;
Event hospital doesn't have a max limit and doesn't use up resources when healing Troops. You only need to wait a while for troops to recover. Of course, you can use Healing Speed ups to Heal your wounded troops. After the event is over, all Wounded will be automatically returned to your City;
During the "Battle Frenzy" phase, only killing Troops of enemy Nations will be recorded. You can search for invading enemies in your Nation or choose to battle in enemy Nations;
Actively attacking will get more Points. Points earned will be reduced when you repeatedly attack the same target. If you attack Troops gathering at Resource Tiles, you can only get 50% of the Points;
During the "Battle Frenzy" Phase, every Commander's resources will be put under system protection. Even if your City's defense fails, you will not lose any resources;
During any Phase, you can get the Milestone Reward after your Individual Points meet the conditions. After every Phase is over, the top Commanders in the current Phase Ranking will get the Phase Ranking Reward;
All Phase points will be accumulated and are split into Nation points, Alliance points and Individual Points. After the event is over, the system will send corresponding rewards according to your place in each Ranking.
Phases (always will be randomly shuffled except Recruit Troops phase which always will be after "Upgrade Buildings and Technology" phase):
Total Nation Ranking Reward: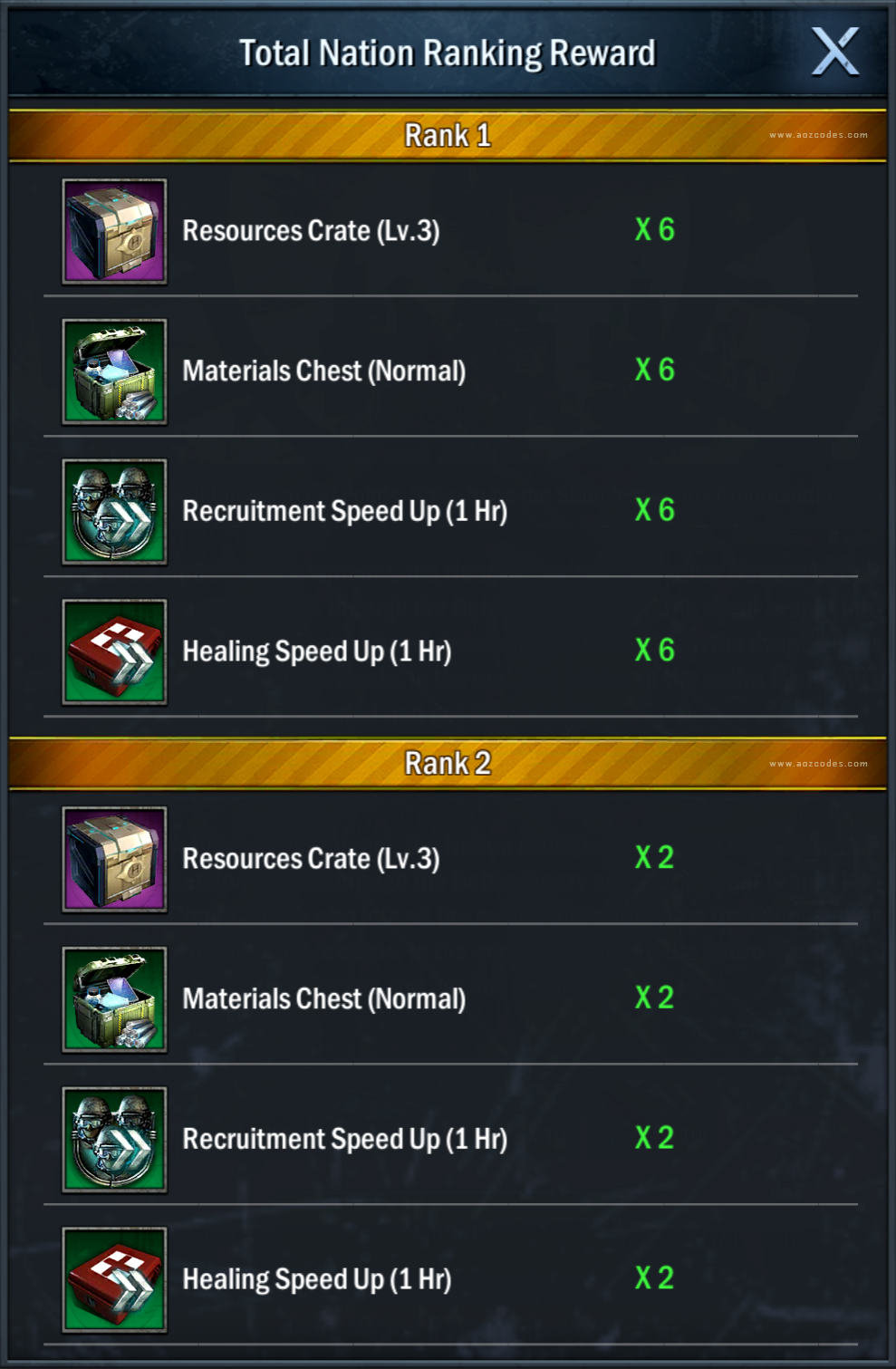 Event rewards:
Total Nation Ranking Reward

Rank 1

– Resources Crate (Lv. 3) x 6, Materials Chest (Normal) x 6, Recruitment Speed Up (1 Hr) x 6, healing Speed Up (1 Hr) x 6

Rank 2

– Resources Crate (Lv. 3) x 2, Materials Chest (Normal) x 2, Recruitment Speed Up (1 Hr) x 2, healing Speed Up (1 Hr) x 2

Total Alliance Ranking Reward

Rank 1

– Fleet Speed Up (25%) x 6, Tech Chip x 16, Recruitment Speed Up (1 Hr) x 10, Healing Speed Up (1 Hr) x 10

Rank 2

– Fleet Speed Up (25%) x 5, Tech Chip x 14, Recruitment Speed Up (1 Hr) x 8, Healing Speed Up (1 Hr) x 8

Rank 3

– Fleet Speed Up (25%) x 4, Tech Chip x 12, Recruitment Speed Up (1 Hr) x 6, Healing Speed Up (1 Hr) x 6

Rank 4-5

– Fleet Speed Up (25%) x 3, Tech Chip x 10, Recruitment Speed Up (1 Hr) x 4, Healing Speed Up (1 Hr) x 4

Rank 6-10

– Fleet Speed Up (25%) x 2, Tech Chip x 8, Recruitment Speed Up (1 Hr) x 2, Healing Speed Up (1 Hr) x 2

Total Individual Ranking Reward

Rank 1

– Frenzy Master (10 Day) x 1, Gold x 38,000, Individual Reputation x 5,000, Alliance Honor x 5,000, Alliance Points x 10,000, Speed up (1 Hr) x 150, Officer Fragment Chest x 75

Rank 2

– Frenzy Infantry (10 Day) x 1, Gold x 27,000, Individual Reputation x 4,200, Alliance Honor x 3,400, Alliance Points x 6,800, Speed up (1 Hr) x 120, Officer Fragment Chest x 60

Rank 3

– Frenzy Infantry (10 Day) x 1, Gold x 17,000, Individual Reputation x 3,400, Alliance Honor x 2,300, Alliance Points x 4,600, Speed up (1 Hr) x 90, Officer Fragment Chest x 45

Rank 4

– Frenzy Infantry (10 Day) x 1, Gold x 11,000, Individual Reputation x 3,000, Alliance Honor x 1,400, Alliance Points x 2,800, Speed up (1 Hr) x 70, Officer Fragment Chest x 35

Rank 5

– Frenzy Infantry (10 Day) x 1, Gold x 6,500, Individual Reputation x 2,600, Alliance Honor x 1,200, Alliance Points x 2,400, Speed up (1 Hr) x 60, Officer Fragment Chest x 30

Rank 6

– Frenzy Infantry (10 Day) x 1, Gold x 4,400, Individual Reputation x 2,400, Alliance Honor x 1,000, Alliance Points x 2,000, Speed up (1 Hr) x 50, Officer Fragment Chest x 25

Rank 7

– Frenzy Infantry (10 Day) x 1, Gold x 3,800, Individual Reputation x 2,200, Alliance Honor x 900, Alliance Points x 1,800, Speed up (1 Hr) x 50, Officer Fragment Chest x 25

Rank 8

– Frenzy Infantry (10 Day) x 1, Gold x 3,300, Individual Reputation x 2,000, Alliance Honor x 800, Alliance Points x 1,600, Speed up (1 Hr) x 50, Officer Fragment Chest x 25

Rank 9

– Frenzy Infantry (10 Day) x 1, Gold x 2,700, Individual Reputation x 1,800, Alliance Honor x 700, Alliance Points x 1,400, Speed up (1 Hr) x 50, Officer Fragment Chest x 25

Rank 10

– Frenzy Infantry (10 Day) x 1, Gold x 2,200, Individual Reputation x 1,600, Alliance Honor x 600, Alliance Points x 1,200, Speed up (1 Hr) x 50, Officer Fragment Chest x 25

Rank 11-15

– Gold x 1,700, Individual Reputation x 1,300, Alliance Honor x 500, Alliance Points x 1,000, Speed up (1 Hr) x 40, Officer Fragment Chest x 20

Rank 16-20

– Gold x 1,300, Individual Reputation x 1,000, Alliance Honor x 400, Alliance Points x 800, Speed up (1 Hr) x 36, Officer Fragment Chest x 18

Rank 21-30

– Gold x 1,100, Individual Reputation x 800, Alliance Honor x 300, Alliance Points x 600, Speed up (1 Hr) x 30, Officer Fragment Chest x 15

Rank 31-40

– Gold x 900, Individual Reputation x 600, Alliance Honor x 200, Alliance Points x 400, Speed up (1 Hr) x 24, Officer Fragment Chest x 12

Rank 41-50

– Gold x 800, Individual Reputation x 400, Alliance Honor x 160, Alliance Points x 320, Speed up (1 Hr) x 20, Officer Fragment Chest x 10

Rank 51-70

– Gold x 700, Individual Reputation x 300, Alliance Honor x 140, Alliance Points x 280, Speed up (1 Hr) x 18, Officer Fragment Chest x 9

Rank 71-100

– Gold x 600, Individual Reputation x 200, Alliance Honor x 100, Alliance Points x 200, Speed up (1 Hr) x 16, Officer Fragment Chest x 8
- Thank you for your support of not blocking ads -